Estimated reading time: 5 min
Building Information Modelling: An Introduction to BIM
According to the United Nations, the global population is projected to reach 9.8 billion by 2050. The global architecture, engineering, and construction (AEC) industry is responsible for supporting this growth by developing sustainable infrastructure, and maintaining and restoring existing buildings and developments. This obligation is a tall order and requires smarter, and more efficient ways to design and build – not just to keep up with the ever-growing population, but for the overall quality and resilience of future developments.
Building Information Modelling is the perfect solution to this. It is used to design and document building and infrastructure designs, and helps stakeholders understand what the finished product will be – highlighting key steps of the construction process along the way. Additionally, it is a great way to ensure all parties involved are kept up-to-date with the project's progress.
What is Building Information Modelling?
Building Information Modelling (BIM) is an intelligent 3D model-based process that provides AEC professionals with every detail need to plan, design, construct, and manage buildings and infrastructure. BIM allows design and construction teams to work more efficiently, while enabling them to capture the data they create during the process. This data benefits operations and maintenance activities, and informs planning and resourcing on the project. BIM can be used in a number of industries, but in architecture it is used to make better design decisions, improve building performance, and collaborate more effectively throughout the project lifecycle. Other industries using BIM include civil engineering, construction, plant, MEP (mechanical, electrical, plumbing), and structural engineering.
The BIM process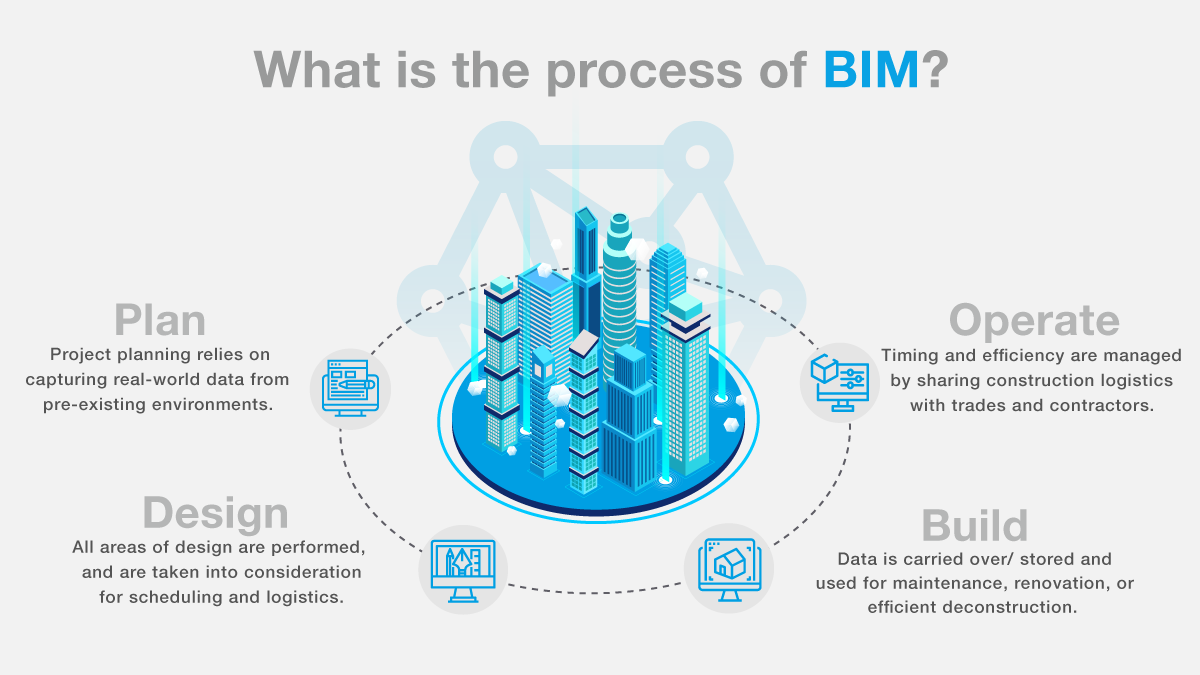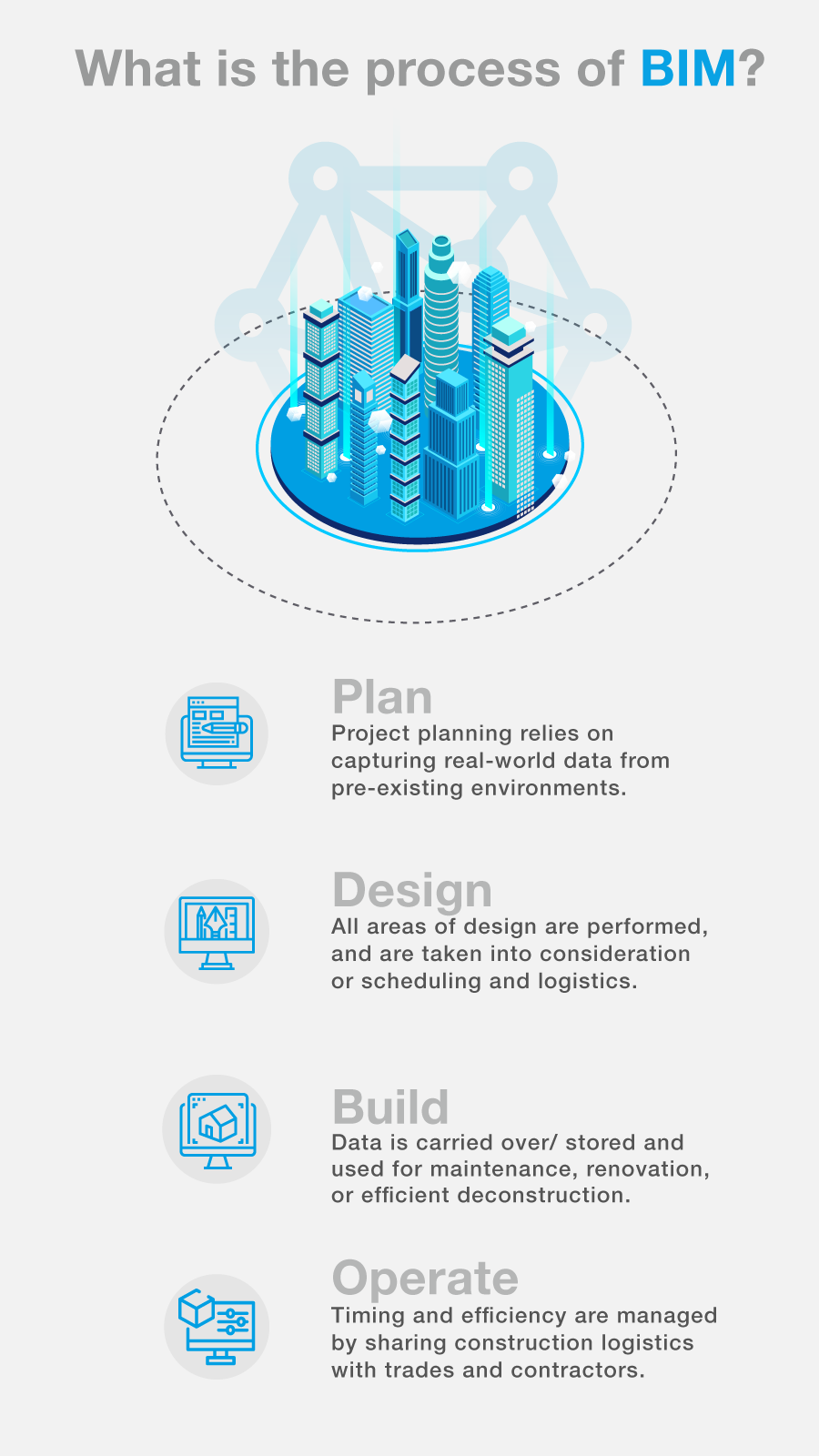 Plan
BIM's ability to capture real-world data and generate context models of pre-existing environments is essential information for project planning.
Design 
During this phase, conceptual design, analysis, detailing and documentation are performed. The preconstruction process begins using BIM data to inform scheduling and logistics.
Build
During this phase, fabrication begins using BIM specifications. Project construction logistics are shared with trades and contractors to manage timing and efficiency.
Operate
BIM data carries over to operations and maintenance of finished assets. BIM data can be used down the road for cost-effective renovation or efficient deconstruction too.
Uses and benefits
BIM technology is used to manage information on a construction project across the project lifecycle. It is the digital description of every aspect of the built asset, and provides modelling and management information which enables all the parties to work to the same standard and to be kept in the loop regarding any updates and changes. Additional benefits include, better project coordination and collaboration with stakeholders, efficient workflows, 3D virtualizations, and overall improved project outcomes.
BIM brings together all the information about each individual component of a building, in one easily accessible place. This makes it possible for anyone to access that information for any purpose and to integrate different aspects of the design more effectively. This results in mistakes and abortive costs being minimised. So who uses BIM? We've broken it down to the types of clients who are and should be using BIM, and what they can use it for:
Contractors and sub-contractors – BIM compliance, reworking native BIM models from consultants and building in additional data, and of course shop drawing production.
Project Managers – Overall management and coordination of projects via BIM, time-lining, and animations linked to the program.
Claims and litigation legal firms – Forensic BIM to validate and support claims.
Quantity surveyors – Re-measure via bulk quantity takeoffs through BIM.
What is a BIM object?
BIM objects are the components that make up a BIM model. These components feature the following characteristics:
Information content that defines a product.
Product properties, such as thermal performance.
Geometry representing the products physical characteristics.
Visualisation data giving the object a recognisable appearance.
Functional data, such as detection zones, that enables the object to be positioned and behave in the same manner as the product itself.
If any of the above elements are changed, BIM software will update the model to reflect the change. This means that all parties involved in the construction process, from designers to project managers, are able to work in a more collaborative environment as the model will remain consistent and coordinated throughout the entire process.
BIM Levels
Various projects use different levels of BIM, with each level catering to a different set of criteria. The levels start at 0 and go up to 4D, 5D, and even 6D BIM, and each level is determined by how much information is shared and managed throughout the process. Take a look at the criteria needed to determine which level you are working at for levels 0-3D:
Level 0 BIM
Level 0 refers to no collaboration whatsoever. This level is generally in operation when using 2D CAD and working with drawings/digital prints.
Level 1 BIM
Level 1 usually means that 3D CAD is being used for concept work, while 2D CAD is used for drafting production information. A large number of firms are at level 1 which doesn't tend to involve much collaboration with each stakeholder publishing and managing their own data.
Level 2 BIM
In April 2016, it was made a mandatory requirement for all publicly tendered projects in the UK to operate a level 2 BIM. At level 2, all parties involved utilise 3D CAD models, and the way stakeholders exchange their data varies from other levels.
Information is shared through a common file format, and all firms involved combine this with their own data. This saves time, costs, and reduces the need for rework.
Level 3 BIM
Level 3 means that everyone on the project uses one, shared project model instead of working on their own 3D model independently. This makes it the most collaborative level among the first 4. This 'open BIM' approach exists in a central environment making it easily accessible and editable by everyone.
Building Information Modelling at RMJM
RMJM DX is a global studio with over 30 years of experience in delivering projects using Building Information Modelling. The team at RMJM DX manages the entire BIM process for its clients, as well as providing support and advice on data management through innovative workflows and plug-ins. The studio provides first-class BIM services across multiple sectors, including luxury residential, mixed-use, aviation and healthcare. Services offered by the DX studio include:
BIM Audits/Assessments
BIM Turn-Around Solutions
Building Information Modelling (BIM1) Management
Building Information Management (BIM2) Management and Solutions
BIM Training & Up-Skilling
DX (Digital Transformation Solutions)
As hardware, software, and cloud applications herald greater capability to handle increasing amounts of raw data and information, the use of BIM will become even more pronounced than it is in current projects. The future of the construction industry is digital, and Building Information Modelling is the future of design and long-term facility management.