Estimated reading time: 3 min
The sentiment now attached to Cockenzie Power Station is surprising given its demolition was widely heralded as a necessary move for East Lothian. The view east from Edinburgh is now decidedly less interesting following a simple push of a button that brought down an iconic building that had stood since 1967. The removal of the twin towers and turbine hall from the Edinburgh skyline, however, has lead to an interesting architectural debate: does history change perception?

The Cockenzie Power Station (RMJM)
Situated on the south shore of the Firth of Forth, near the town of Cockenzie and Port Seaton, East of Edinburgh, Cockenzie was the largest coal-powered power station in Great Britain. There is no question that that station's loss was keenly felt by the community it had powered and been powered by. It's estimated that over 10,000 people were employed through the decades and, while these workers probably have no longing for what eventually became a redundant power station, the station itself played an active role in their lives. It helped pay for and fuel their homes, occupied the sky when they looked up, standing testament to their labour.
In a concerning trend, Scotland's modernist architecture seems to be disappearing, leaving behind a visual record but no physical trace. Inverkip Power Station, one of Robert Matthew's final projects, was another that saw its chimneys fall in recent years. Cockenzie's sibling power station at Kincardine – also by RMJM and lauded by architects – was demolished in 2001. Regrettably, these buildings haven't been shown the same care that was afforded to the Bankside Power Station, now the Tate Modern. The Guardian's Fraser MacDonald commented: "it is hard not to see this promising example as an analogue for our relationship with Scottish modernism more generally: by the time the style gains recognition, we find ourselves adjusting to its loss."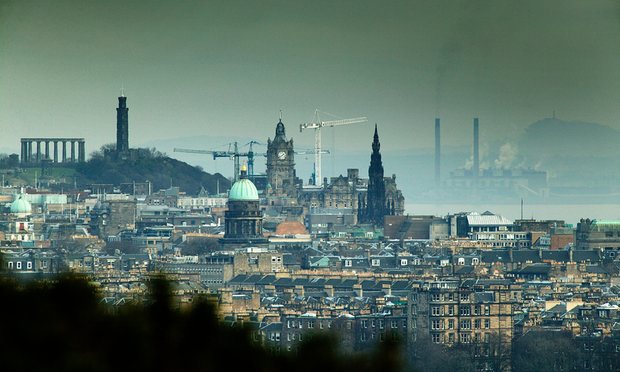 Cockenzie Power Station punctuated the East Lothian skyline for nearly 50 years (Image: Murdo Macleod)
Decommissioned in March 2013, Cockenzie Power Station originally drew little enthusiasm from the public. There was no groundswell of public opinion to keep the station standing when its demolition was first mooted. Despite the clear heritage value of the building and the fact it was listed as one of the top 100 modern Scottish buildings, Historic Scotland did not stand in the way of its destruction. Further, Scottish Natural Heritage was unequivocally clear when it stated that the iconic chimneys 'serve no functional purpose' and demolition 'presents an improvement to the visual amenity of the area'. Almost a year after the power station's demolition it's clear that there are many who don't agree.
Cities are now gripped with talk of sustainability, space and new technologies. Yet for all that, cities are their skylines. If nothing is added, as in the case of Cockenzie, then something is irrevocably lost. Edinburgh's skyline may have hidden its industrial roots but its past can still be glimpsed. The Cockenzie Power Station might only exist in photographs, paintings and postcards, but it exists nonetheless. Removing it from the landscape was as easy as pushing a button, removing it from memory will take infinitely longer. Nostalgia is evoked because what we now see, an empty space, is what was there before. And we have to imagine the future all over again.