Estimated reading time: 4 min
From time spent in security to shopping sprees in duty-free, airport design is crucial to your overall travel experience — here's why.
Being a crossing point for thousands of people every day, an airport has a unique representative value that cannot be underestimated. It showcases a nation's political, economic, cultural and technological power, while simultaneously influencing visitors' first impressions of the country. Needless to say, airport design is paramount to this, so let's start by taking a look at exactly how this can impact everyone who passes through these transportation hubs.
"Everything, from the airport design to the efficiency of its procedures and its retail offer, contributes to creating a travel experience that determines the airport's success.
Despite being highly defined by processes, airports are vibrant systems that communicate a message to the passengers at every step they take. Everything, from an airport's design, to the efficiency of its procedures and its retail offerings, contributes to creating a travel experience that works to determine its overall success.
In this sense, architecture and interior design have a crucial role to play in shaping an experience that can improve the passenger's journey and leave a wholly positive impression.
Airport design works to enhance the travelling experience
An efficient airport design is extremely important in making the passenger's journey (within the terminal building) as smooth as possible. On average, a passenger spends 133 minutes in an airport, starting from their arrival until the moment the aircraft's doors are closed.
"Clear signs and graphics, as well as the decorative patterns of the floor and walls, can make it easier to navigate the terminal building.
Despite the fact that processing activities (such as security and boarding) are often considered the main type of activity that passengers undertake while within the airport terminal, this usually accounts for only 20% of their time. The other 80% is in what's known as discretionary time, which is when passengers can enjoy the airport facilities.
It has been proven that discretionary time is usually associated with positive feelings, such as excitement and expectation, while processing time is associated with negative feelings, like anxiety and stress.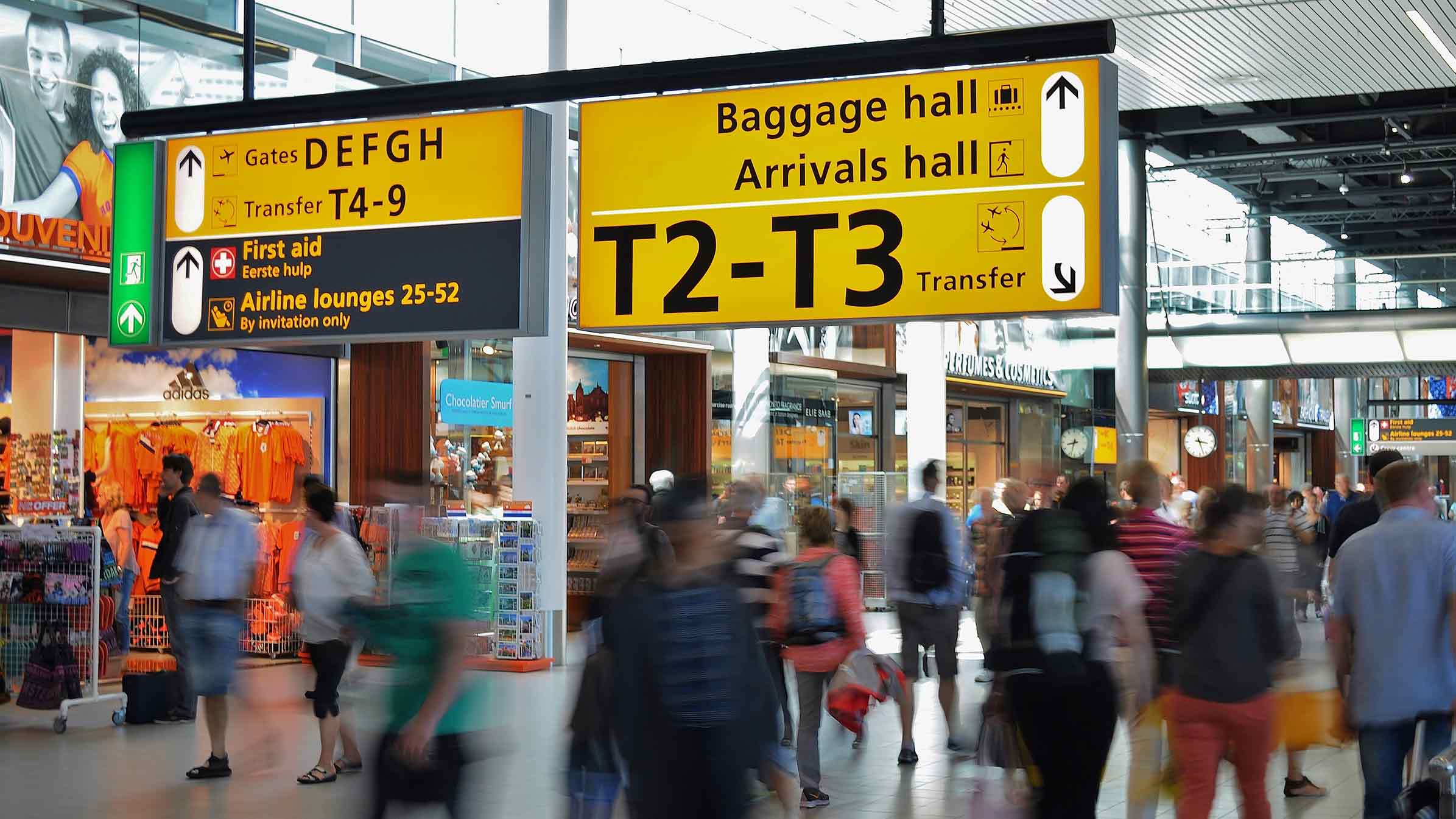 Airport passengers spend on average 20% of their time undertaking processing activities which are associated with stress and anxiety.
It's extremely important to make sure that airport architecture and design both support the management and airlines in their efforts to streamline all procedures, ultimately allowing travellers to board their flights with ease. Clear signs and graphics, as well as the decorative patterns of the floor and walls, make it easier to navigate the airport terminal building.
On the other hand, spatial organization and effective airport design can maximise the retail experience in the airside area (the sterile area beginning from the liquids, aerosols and gases security checkpoint and ending at the boarding queue) where most discretionary time is spent.
On top of that, designers should think about integrating interactive screens into the airport design which can provide clear and live information about time and flights. This works to reduce stress, dramatically improving the travel experience by providing passengers with an accurate sense of how much time they have left before they need to leave.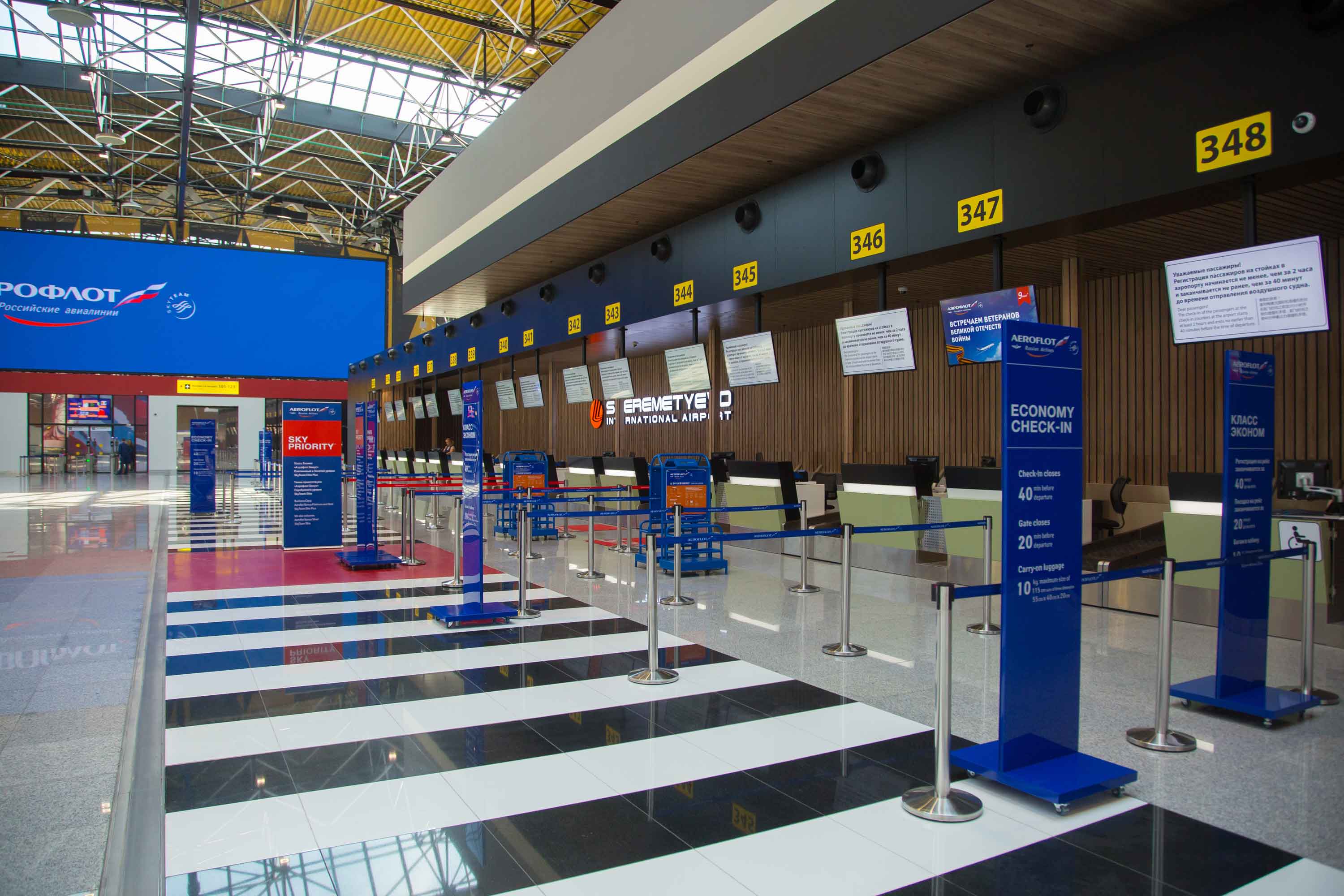 The interiors of Sheremetyevo International Airport Terminal B guide the passengers throughout the terminal and allow real time information to be provided (Photography courtesy: Press-service of Sheremetyevo International airport)
Sheremetyevo International Airport — an institution which used airport design to show cultural identity
An airport can tell several stories. Either directly or subtly, it can tell us about the wealth of a country, along with its history, culture and traditions. Recently, this communicative power has been exploited by more and more architects who specialise in international airport design, working to convert these crossing points into hubs of experience.
When RMJM was asked to design the interior of Sheremetyevo International Airport's Terminal B, we decided to create an airport design that could transform the travel experience into a story of cultural identity. Airport design is key to enhancing the user's travel experience, so we wanted to construct a baggage of experiences and images which people could emotionally connect with and take home with them.
Drawing inspiration from Russian Constructivism, we created a design that tells the story of Russia and guides the passenger from the entrance to the gate, into a metaphorical (as well as literal) journey.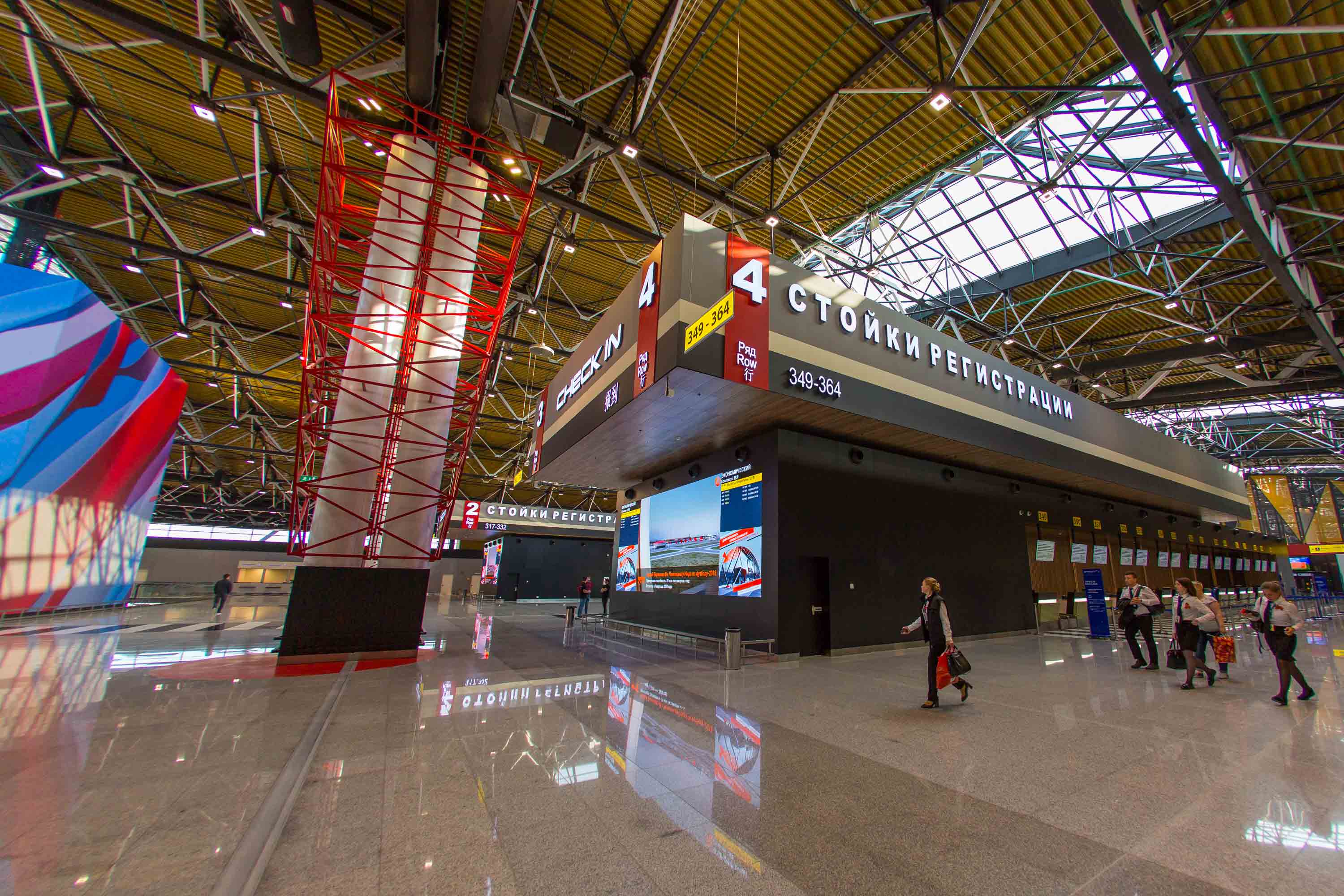 RMJM drew inspiration from Russian Constructivism to create a new passenger's experience within Sheremetyevo International Airport Terminal B (Photography courtesy: Press-service of Sheremetyevo International airport)

Every element of Sheremetyevo International Airport TB's design and its interchange stations is in line with this 20th century, avant-garde philosophy — the palette and patterns used on the floor and the ceiling, the graphics on the walls and the design of the columns. The latter, for instance, are covered by a decorative grille inspired by the drawings of the Constructivist artist Chernikov.
Textile patterns and oil paintings created by Lybov Popova have been reproduced on the walls of the north station and in the arrival area, while Alexander Rodchenko's Dobrolet and his Portrait of Mayakovsky — a photo montage created for the back cover of the book 'Conversations with a Tax Collector About Poetry' — have been adapted to decorate the walls of Terminal B's departure area.
Just like an airport connects cities far away, Russian Constructivism fast became the fil rouge, transforming the travel experience into a symbolic journey into Russia's culture and traditions.
From the airport to aerotropolis — the ultimate travel experience
It's a fact — airports are transforming the transportation industry. While their primary goal is to move millions of people every day, airports are increasingly becoming more than just a transportation hub. They are places of commerce, work, trade and leisure which cannot afford to lag behind.
Several airports worldwide have started to increase and diversify their non-aeronautical offer as well, using big data and digital technologies to offer a new type of travel experience to their passengers. Cinemas, ice-skating rinks, Michelin-starred restaurants, delivery-to-gate services and even chapels for wedding ceremonies are just a few examples of how airports are growing into what is now being dubbed as aerotropoli (or airport cities).
As such, airports are evolving into the place in between — the missing link between a city and the rest of the world. Airport architecture and interior design can consecrate this role by reinforcing and conveying the idea of a nation's cultural identity without compromising the airport's technological advancement.
The future of the passenger's journey is going to be high tech, that's for sure, but it's important to make sure that this includes cultural experiences, too. As designers, we need to ensure that we are travelling in the right direction.
Do you see a correlation between the design of airports and passengers' travel experience? Let us know your thoughts in the comment section below.