Estimated reading time: 5 min
It's no secret that Millennials make up a large portion of the workplace – 50% to be exact – and an article from Forbes suggests this will increase to 75% by 2025. As these demographics change, workplace requirements will continue to transform. Companies need to ensure they are at the forefront of this change. Ping-pong tables, comfortable sofas, and craft soda machines aren't enough. Thoughtful workplace design should be a key consideration, and will no doubt be a factor for millennials when deciding on where to begin their careers.
'Office culture' has existed in some form since the conception of the shared workspace, but it's taking on a new meaning in the lexicon of millennials. Millennials approach work in a different way baby-boomer workers and an office space can greatly impact their level of productivity. For organisations to remain competitive, they must consider how their values are reflected in their workplace design. A functional, efficient work space is essential to attracting the right workers. But how do businesses represent their shared values through their office space?
Well-Being in Workplace Design 
A healthy lifestyle sits at the very core of millennial values. In workplace design, this lifestyle extends far beyond free fruit and water. To cater to this, businesses should try to offer an outdoor area. This external, natural space  provides variety for employees and gives them the inspiration they need to perform at the highest level. Millennials look for workplace design that combines comfort and aesthetics with modern technology. This isn't to say they expect slides, meditation rooms and kombucha dispensers. But it does mean they are looking for something that encourages communication, cooperation and individual expression. In order to satisfy these wants, a number of elements need to be considered:
Furnishings
Convenience
Comfort
Lighting
Even colour schemes
Above all else, an office space should simultaneously encourage communication, consideration and productivity. This is where the discussion on open-plan offices comes in. While this kind of workplace design facilitates communication and productivity, it is important to remember that not all millennials enjoy this kind of layout, and the inclusion of private spaces is essential. Communal areas and hubs can boost creativity, but allowing employees to have time to themselves is equally as important and should be considered for any workplace design.
Incorporating Technology in Workplace Design
Millennials and Gen Z-ers tend to be tech-savvy workers with work-time focused around mobile phones and computers. Integration of the latest technologies is a no-brainer. However, these technologies go beyond pleasing this generation; they're good for business as well. Effective workplace technologies not only engage employees, they  also reduce operating costs. By future-proofing the workplace, employers provide workers with flexibility and choice. Forward thinking design not only helps hold on to current employees, it will also plays a decisive role in attracting future workers too.
No matter which generation employers try to cater to, one thing remains the same: the desire for productivity. Adopting a one-size-fits-all mentality is not the way to go about this. While millennials make up a large portion of the current workforce, there are a considerable number of Gen X and Baby Boomers still working. It's vital to ensure their needs are met as well. Thoughtful workplace design is about a lot more than just creating spaces to relax. It's about how different generations utilise the space to balance their diverse professional requirements to work as one cohesive team.
Regardless of if a business is expanding, renovating, or starting from scratch, the workspace must be designed to work for every employee. Thankfully, a number of businesses recognise the diverse needs of their staff and place functionality at the forefront of office designs.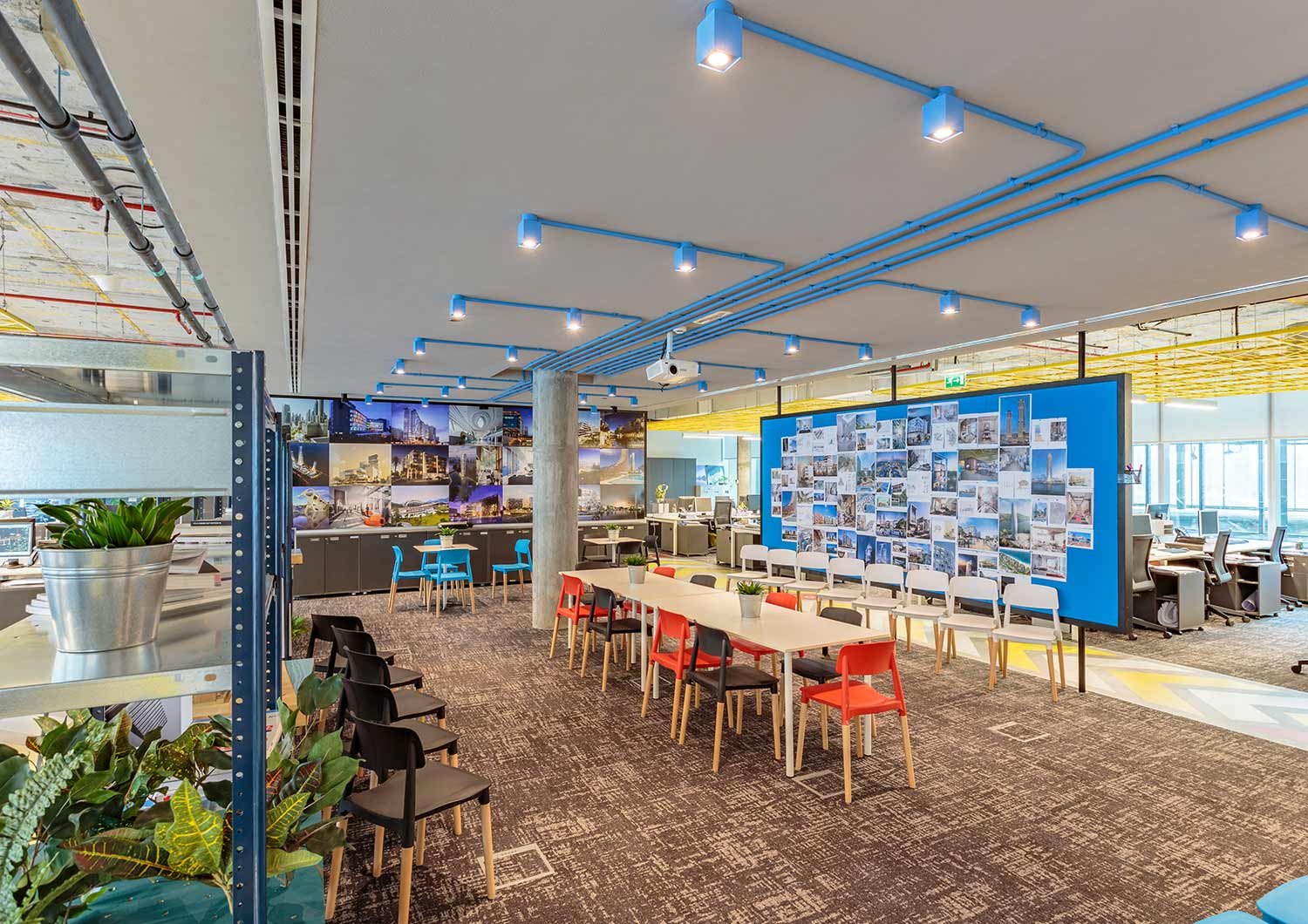 A Splash of Colour
It's no secret that branding is a powerful tool for any business or organisation. Decision-makers need to ensure their branding extends beyond brochures and marketing collateral. More and more businesses integrate elements of their branding (logos and colour schemes) into their office designs. This allows them to communicate their brand values through the workspace, while leaving a lasting impression on clients.
While the same goes for every employee, no matter which generation they're from, millennials are mindful of the amount of time we spend at work. This is why they look for employers who understand the importance of adding meaning to their days. Jobs that are aligned with life values will motivate the next generation to work to their full potential.
There are three key factors that will help you attract the next generation of talent: integration of new technologies, a comfortable, physical, and functional space, and a vibrant company that understands the importance of work-life balance. Millennials are characteristically wary of job loyalty. Implementing these design suggestions will go a long way to increasing workplace satisfaction and encouraging employees to stay and grow with the brand.
RMJM Survey on Workplace Design
The team at RMJM recently sent a survey out to establish what different generations of employees look for in workplace design.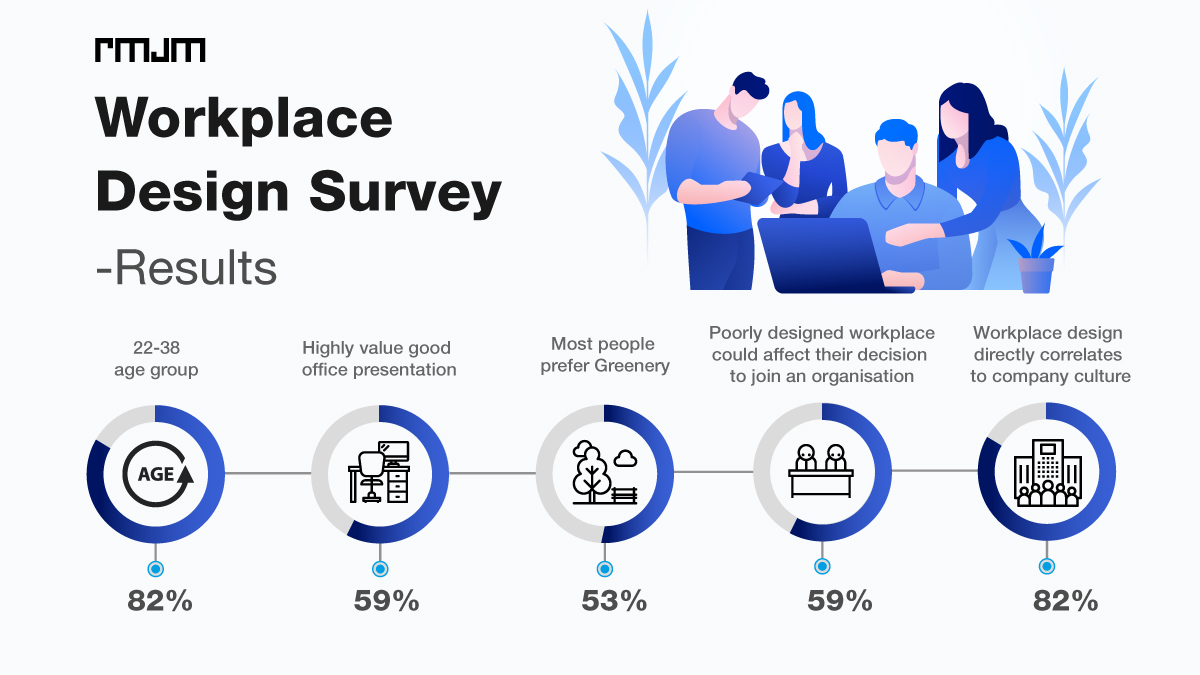 A breakdown of the questions and results are as follows:
1) Which age group applies to you?
82.35% of respondents fell into the Millennial category (22-38), with the other 17.65% falling into the Gen X category (39-59).
2) How much do you value a well-presented and aesthetically pleasing office space?
58.82% of respondents highly value good office presentation, with 41.18% of respondents saying they always value good office presentation.
3) Of the following, which features do you prefer in an office layout?
35.29% of respondents say they would prefer to have open-plan working spaces with  only 23.53% saying they would rather have a 'traditional office layout' with  enclosed work spaces. The majority of respondents, however (52.94%), said they would like if greenery were included in their office layout/design.
4) Do you think that a poorly designed workplace could affect your decision to accept a position with an organisation?
58.82% of respondents said a poorly designed workplace could affect their decision to join an organisation.
5) Do you think workplace design directly correlates to company culture?
A staggering 82.35% of respondents said their current workplace design aligns with the company's culture.
6) Name three design elements that you look for in a workplace?
Here are the highlights of the responses we received:
Aesthetically pleasing interior
Large space
Peaceful Interiors
Intelligent layout
High quality materials
Recreational facilities
Individual work spaces
Unique and creative design
Natural or high quality lighting
Relaxing colours
It's clear employers need to take workplace design more seriously and should start asking their employees what it is that they want. It's not simply for the well-being of staff. Through safe and efficient employee-friendly office design, organisations can attract staff who share their corporate vision.
RMJM have a number of experts who are ready to help you bring your work space into 2019, get in touch with a member of the team for more.