Estimated reading time: 4 min
RMJM Dubai's Construction Site Architect Bisera Becirevic discusses building supervision in design and the impact technology has had on her day-to-day working life
Architecture is a truly versatile profession. Over the course of their careers, architects can find themselves designing everything from a multi-storey shopping complex to a fully-fledged regional hospital made to cater to the masses. Yet it's not just the variety of buildings that give architecture its diverse reputation — it's also the many roles that an architect can embody within a project.
Bisera Becirevic is a Senior Architect at RMJM Dubai who is currently working as a Construction Site Architect. A far cry from days spent on Rhino modelling projects in their early stages, Bisera is the Construction Site Architect of UAE Pavilion EXPO 2020. We caught up with Bisera to delve a little further into her extensive experience of construction site supervision and shine a light on an aspect to architecture that many often forget.
Hi Bisera, what would you say the main duties of an architect on a construction site involve?
My role is made up of detailed site observations, looking for any deviations from project designs, following progress in specific areas, reviewing submitted shop drawings and providing clarification for project queries or details initiated by the contractor. Obviously, this all calls for a high standard of attention to detail.
"Construction sites are like giant puzzles, with an architect using skills, knowledge and expertise to help make sure all the pieces fit together.
Working on a construction site shows that architects are not only involved in designing, but also in making sure that design plans are correctly implemented. Architects oversee every phase of construction on projects through tasks such as reviewing shop drawings and checking that work is done in accordance with official project designs and specifications. We've got to ensure that construction goes to plan, but also be there to deal with any problems that surface translating architectural drawings into physical objects.
Construction sites are like giant puzzles, with an architect using skills, knowledge and expertise to help make sure all the pieces fit together.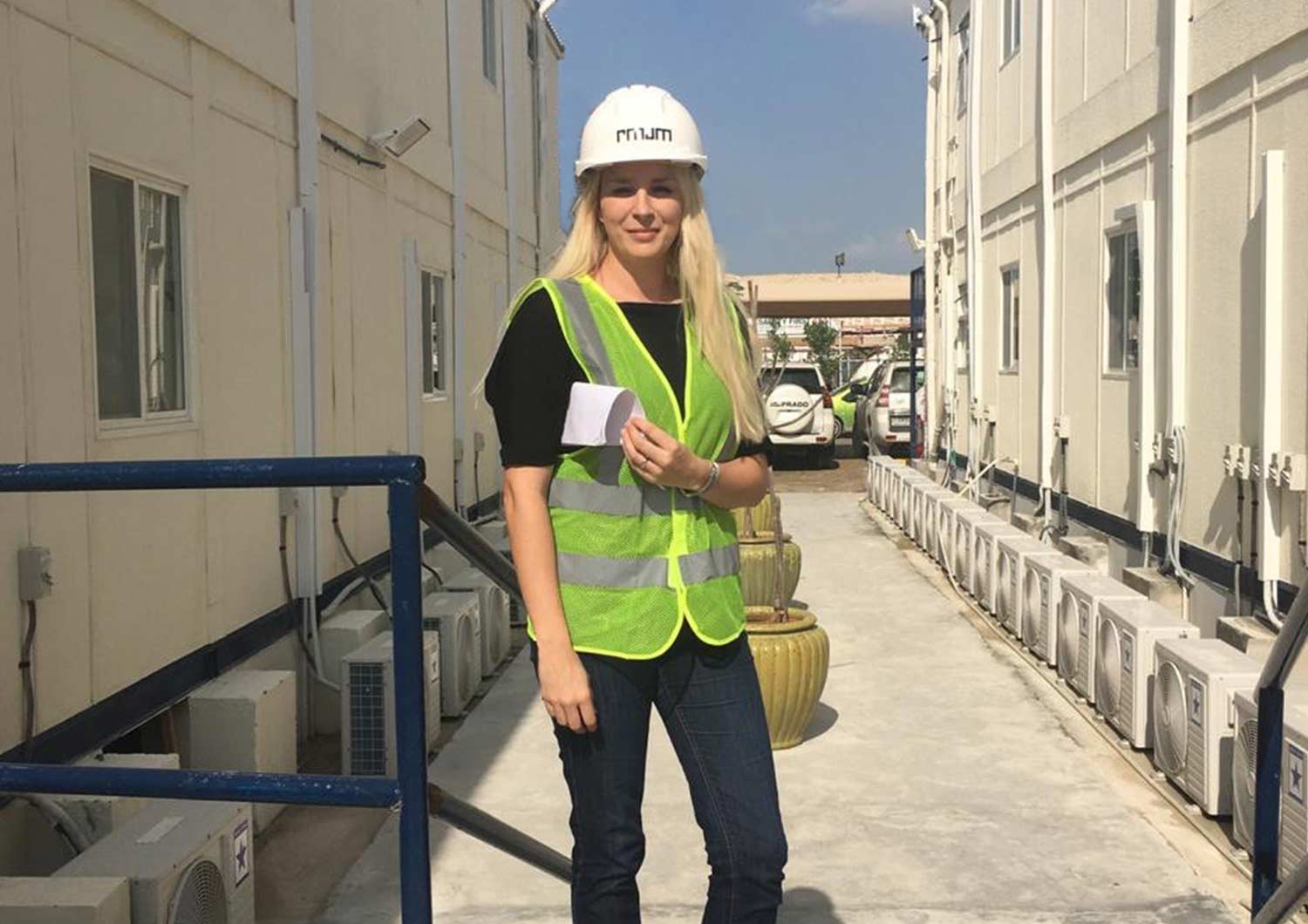 RMJM Dubai Construction Site Architect Bisera Becirevic
That's an interesting analogy! Moving on, what personality traits do you think are necessary for efficient construction supervision?
As well as being organised and having a strong eye for detail and systematic approach to work, you need to be an effective communicator who can work with all the different people and professions involved in projects — it's very important to be a competent team player.
How do you measure job performance?
That's a tricky question to answer. I suppose the best way to measure quality, besides within the construction, obviously, is to look at whether deadlines are being met. You'll often find that the volume of work is much higher for different stages within the project. Sometimes you're left with problems that require you to work longer, or show up on your day off to meet a deadline and ensure the project stays on track.
What advice would you give a recently-graduated architect going into their first construction supervision role?
Spend time observing the site itself and the work being done in order to better understand all stages of the project. As long as you remain dedicated, you can enjoy seeing it through to successful completion.
It's important not only to be confident, but to be respectful to all disciplines involved in project implementation. Don't worry about asking your senior colleagues questions and remember that you never stop learning, especially when it comes to new technologies and elements that affect the schedule, quality and performance of your work.
That's a sage piece of advice right there. As an architect with over 10 years of professional experience, you must have seen a lot of technological developments within the industry. In what ways have these affected your day-to-day work?
Good question! This is something which I could talk about at length. These days, most architects I know won't have touched a ruler since their studies! Advanced technology is now the primary tool that helps architectural and structural evolution across all phases. It's now essential that architects follow the development of technology and the significant impacts it can have on detailed planning, precise design and, ultimately, the quality of the final product.
Building information modelling (BIM), for example, helps create and process all the information on projects, from the beginning of construction right through until the end. You can use this to make 3D models, then connect this with other important data, such as drawings and RFIs, so the client has an insight into the entire set of information for future building management.
New technologies have also led to advancing standards, ratings and green certifications. Innovative techniques, along with recyclable and non-harmful materials, enable future users to maintain a healthy relationship with the natural environment — this can only be a positive. All in all, there are many ways technology has impacted my role and I feel hopeful about what the future entails.
Enjoy this post? Read this interview with RMJM Dubai's Neil van der Veen and learn more about RMJM in the Middle East.