A Dynamic Landmark 
RMJM RED have been appointed as the lead design architects for the Ningbo Fashion Creative Centre. The project will be a gateway between the old town of Ningbo and the Eastern New Town District. RMJM was selected amongst several international firms for its open-minded approach and unorthodox proposal.
Ningbo is a city known for its influential architecture. From the traditional and historic such as the Ningbo Drum Tower which has been rebuilt and restored many times over its 1100 year life to the modern and contemporary such as Ningbo Museum, designed by Wang Shu who was the first Chinese citizen to win the Pritzker Architecture Prize in 2012. 
The site is located in a district rich with innovative contemporary architecture, populated with staggering towers and sculpted civic buildings. The studio faced the challenge of designing a creative hub that would be harmonious with its surroundings and yet make a bold statement. If RMJM RED wanted to create an offering to Ningbo's architectural legacy they needed to think outside of the box and consider a less conventional approach.
We wanted to create a design oasis to attract artists to set up their studios and brands there and to become a destination for people interested in design, fashion and art and ultimately to elevate the culture of design in Ningbo.

Brenda Ye

Executive Director | RMJM RED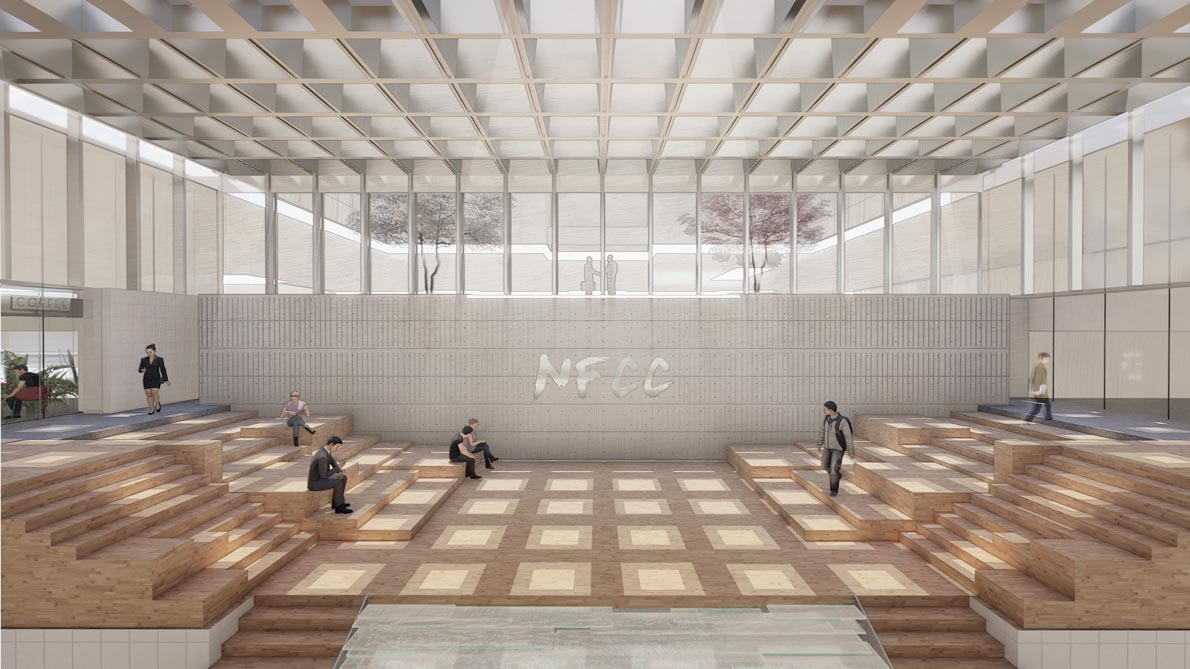 Design Concept: An Adaptive, Collaborative Space
The design brief for the mixed-use building had two main aspects: it had to be flexible and adaptable and it had to bring about a collaborative environment. The building needed to be able to adapt to meet the changing needs of a wide variety of tenants, so RMJM RED integrated the floor spaces into a matrix system that would allow for adaptation and reconfiguration. The ability to reconfigure the workspaces allows for co-working and collaborative spaces to be distributed throughout the building as required thus making an active and creative environment. Every aspect of the design was driven by the client's wish to create an interactive hub for Ningbo's artistic community. 
We were in sync with the client's vision that this was not an ordinary project. We wanted to make a statement that would signal to China and the rest of the world that Ningbo was a Design City that was ambitious and uncompromising

Tean Chee Ko

Design Director | RMJM RED
Despite the development sitting amongst an urban fabric of towers, the studio rejected the idea of designing a tower early on. Instead, they focused on expansive floor plates and sweeping volumes that brought movement and dynamism to the mostly rectilinear surroundings. In choosing not to compete in stature along Ningbo's skyline, RMJM RED was at liberty to create a much more engaging building that could become a beacon for the design community in Ningbo. RMJM RED will elevate the designers in Ningbo rather than design another elevation. 
An Experiment in Unorthodox Design
The response from Ningbo authorities on RMJM RED's proposal has been very positive, and they have since placed RMJM on a shortlist of recommended design firms for developers to work with on major projects. 
RMJM RED's design will become a distinctive landmark in Ningbo with its bold and engaging design. An experiment in blending rational planning frameworks with sculptural, expressive form, the NFCC Ningbo Fashion Creative Centre will become a home to the creative community and will inspire and nurture them for generations to come.
Project Team:
Andrew Kim, Charmaine Yau, Doyeon Cho, Fish Yap, Henry Wu, Jason Leung, Mike Morgan, Pietro Peciccia, Quinne Qu, Robert Munz, Ryan Zhao, Thomas Cheng and Weronika Marciniak.