The home and its in-between. The neighbourhood and its community. The office and its atmosphere. The concern with sustainability and the future of the planet has become a key touch-point across all human activities and areas of life, and architecture is not exempt from this. RMJM  recognises the fundamental relationship between architecture and the deterioration of the environment.
On a broad level, our design philosophy explores the various levels of interaction people have with their surroundings and the behavioural patterns that can or are occurring. This also means that from home life to office life- we believe that the interaction with green is essential and highly valuable. In fact, recent research has proven that "exposure to nature not only makes you feel better emotionally, it contributes to your physical wellbeing, reducing blood pressure, heart rate, muscle tension, and the production of stress hormones." (1).
This is why, at RMJM, we consider how we can incorporate sustainability components during every project, whether it is through the materials used or through innovative design ideas. Read on to find out about how RMJM gets green globally.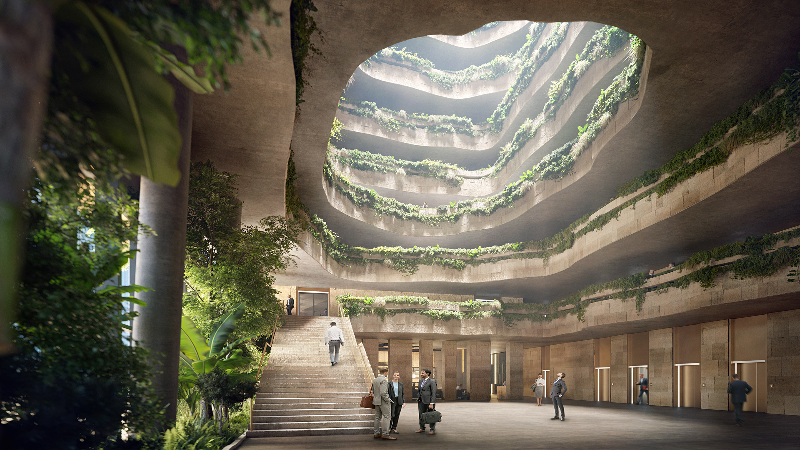 Sanko HQ, Büyükdere Caddesi, Istanbul Turkey

It's no surprise that the green scene has boomed in recent years, with widespread recognition that the significance of every action we take has an impact on our environment.  We first explore what interactions occur between people and green elements within their homes and the steps further, within the public realm and what it signifies in terms of place-making. 
We have different scales of spaces in communities; from the privacy of our homes to the semi shared areas in between, to the wider community-shared amenities. We believe that a recipe of balance between these scales of spaces and how we interact with the green in them can create a unique story.
At RMJM, we believe that that story starts from within the home. Residential developments often take on a typical way of masterplanning. But our team pushes that narrative of a normative development to create added value by envisioning a family's activity throughout the day. We achieve that by connecting linear paths from the private home to a semi-private garden and ultimately to the heart of the community.
Further, we can utilise undulating and playful grounds that can host various activities and bespoke landscape elements. Design options such as the use of green roofs and multi-use spaces can create a home to facilities such as a community centre, gym and library. The carving out of earth creates a cooler space for activities and engaging sectional relations while also saving energy through insolation. This is just one way in which the 'heart' of a community could be brought to life through smart and sustainable design choices.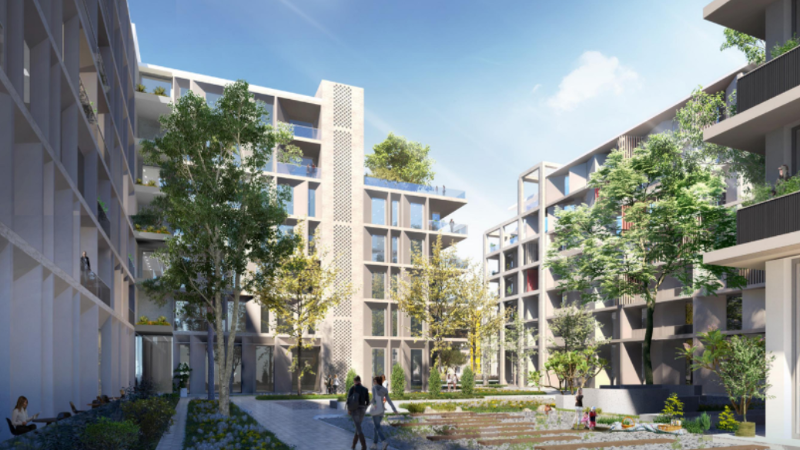 Confidential project in UAE
Sustainable design has emerged as an essential factor in how buildings and cities are being created. According to the International Energy Agency (IEA), as of 2020, the construction industry was recorded as being responsible for one-third of total global energy consumption (2). 
For RMJM, the ecological design concepts don't stop at the community or individual levels. While the office park typology calls for a different design approach to that applied to outdoor spaces, there are still plenty of ways we can utilise green architecture to enhance the quality of life and the environment. Openness, multi-layered and versatile interactivity are contrasting behaviours seen here when compared to residential typologies and provide unique opportunities. 
We dive into this office park typology with the example of one of RMJM's office parks situated in Riyadh. Like any project, a major part of its design is driven by context. While designing for the future, we also design for the climate, with a functional landscape that can be doubled down to operate as an amenity. Riyadh is a dynamic, rapidly growing city and while we design for its future, we also looked into its climate. It can hit lows of 9°C and highs of 45°C through the year, which calls for the public realm to be just as dynamic. Functioning for the heat and the cold, this evolved into one the big drivers in the landscape concept, because we wanted people to be able to use the outdoors all year long.
Furthermore, as seen in this project, architecture has often been inspired by nature. The heart of the project is a serene water body, complemented with the soft sound of water falling, creating a sense of calm. It serves as a buffer between the more external facing energy park and then the more internal collaborative hub courtyard. These main open spaces are complimented in scale by the sikkas between buildings and together sets the narrative, influencing how and why people use a space. 
With access to a park closely connected to the office, we had the opportunity to carefully craft shaded outdoor pockets and trails to create  additional functional landscape that elevates existing amenities. Rooftop gardens and balconies can become shared amenity spaces, with interactions to other levels through visual and green connections.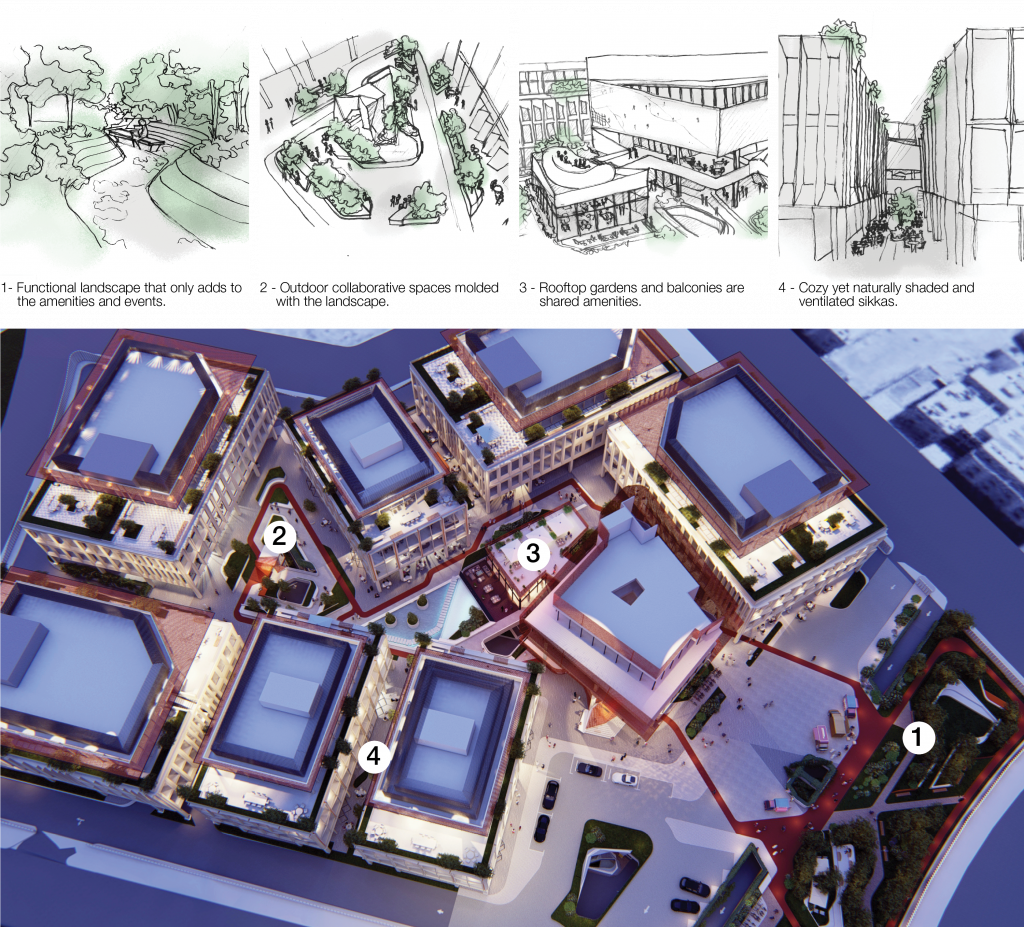 Meydan Business Park, Riyadh, KSA