Estimated reading time: 5 min
There is no other building material that comes close to glass in terms of versatility and aesthetic appeal. It is one of the oldest and most respected types of building material around the world, having been in use in one form or another since at least 500 BC. At this point in history, only the most wealthy and prominent citizens of Rome and Pompeii used glass, in the form of cast glass windows in villas, though the quality was poor. For centuries, glass continued to be aspirational and expensive, produced in small quantities. Alchemists and then scientists tinkered with its formula over this time, and by the seventeenth-century glass was more widely available and of better quality. The glass we know today had finally begun appearing in the window frames of everyday residences. 
Jumping forward in time, many believe the next big innovation in architectural glass use was the first true glass-walled skyscraper- the United Nations Secretariat Building, opened in New York City in 1952. This design spread like wildfire across the AEC community as it was quickly followed by many imitators springing up across the world. From here glass had become the chosen medium for both building fenestrations and cladding, as well as (eventually) a material for load-bearing elements such as roofs and floors alongside entire exteriors.
Consider the image of a glass tower catching the sun's rays in comparison to a concrete construct from the brutalist period. Today's designers see glass as an incredibly versatile and robust material that can be significantly more attractive than alternative materials. As it also allows for natural light, which has recently become a highly desirable element in modern architecture, it is a trend expected to stay as society realigns its relationship with nature and all it has to offer. 

Minsk Exhibition Centre, Minsk, Belarus
In the case of the Ningbo Yongjiang Innovation Centre and mixed-use development, RMJM envisioned how the natural light would  hit every element of the business park (1). As such the design of this project ensured that the windows were a cohesive part of the building exteriors and overall user experience, rather than separate elements. As mentioned before, the architectural inclusion of natural light has become a staple for many modern buildings, particularly in the field of commercial/ office construction, this is directly linked to the growing prost-pandemic desire to have more open, 'airy' and especially more comfortable working environments. Thus the sheer glass exterior seen used in the Ningbo Yongjiang Innovation Centre design proposals is a clear example of when the material has the ability to enhance a building on several levels.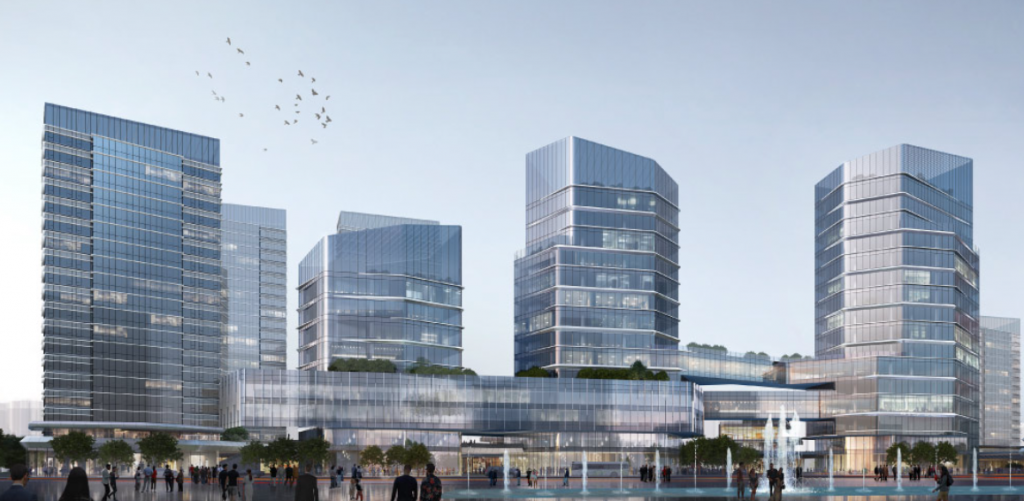 Ningbo Yongjiang Innovation Centre, Ningbo, China
Of course, in the past, some people have been quick to pass judgement on glass exteriors due to many energy-related issues, especially when governments and other global bodies began introducing much stricter energy standards amid acknowledgement of the global warming crisis. Currently, the contribution from buildings toward global energy consumption is approximately 40% (2). Most of the said energy use is for the provision of heating, ventilation and air conditioning (HVAC). However, this concern will become widely redundant by the later half of the 2020s, with the use of state-of-the-art, high-level performance HVAC systems in buildings becoming common practice. 
And alongside this, there have been game-changing innovations in the field of glass that will further aid in the sustainability of modern architecture. Firstly, a new coating for glass has been created that will suppress solar heating while simultaneously boosting cooling during the summer and in the winter, doing the opposite to warm up the room. Dr Long Yi of the NTU School of Materials Science and Engineering and principal investigator of the study explains:
"The self-adaptive glass is developed using layers of transparent thermoplastic and low-emissivity coating to form a novel structure which could modulate heating and cooling simultaneously, with no electrical components, but working by exploiting the spectrums of light responsible for heating and cooling." (3). 
Secondly, the solar market is continuing to evolve, and many manufacturers are looking beyond the traditional roof-mounted solar panels. Solar windows with photovoltaic glazing is an emerging solar technology which could enable buildings to harness the light they capture through these glass façades, and as such will be able to generate their own renewable electricity through the windows/ structure (4). Such technologies are proving that glass has become a revolutionary and sustainable opportunity, especially when compared to 'traditional' materials.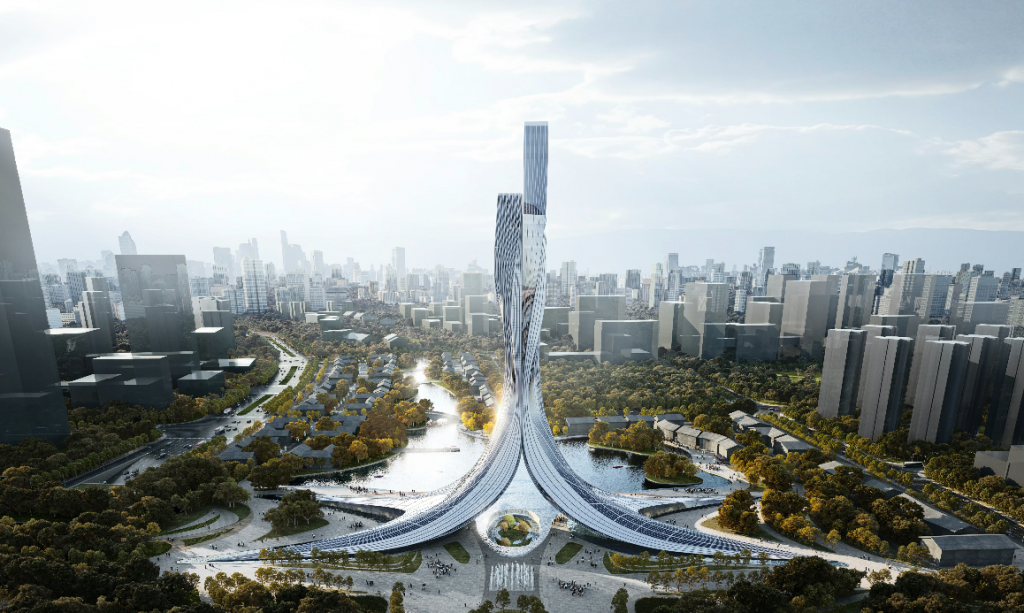 Xiangjiang Gate, Hengyang, Hunan Province, China

Though the extensive application of glass is typically imagined to be used for high-rise buildings, as discussed earlier, in terms of cladding, it can be particularly unitised to make smaller, or low-rise structures appear larger and more cohesive. Glass has the ability to create partitions without barriers, connecting spaces without the use of concrete and bricks while also allowing light to seamlessly flow through, in this sense it is something that stands out amongst other possible material choices. As touched on above, there is a trend for more comfortable and connected working environments, and interiors in general, thus furthering the preference for this design material.
Additionally, whilst practical, it is also a particularly cost-effective decorative choice when compared to alternatives such as tiling, painting, and other forms of decoration. While glass cladding can provide a striking surface, it is also an easily maintainable wall surface that is ideal in a wide range of architectural settings, especially within commercial and hospitality. 
Upon review, it is transparent that glass has stood the test of time and will continue to be seen, as trends in architecture shift to further find ways to include glass in both interior and exterior design.