Estimated reading time: 3 min
Wood. One of the oldest materials used by man, having served as an important construction material for thousands of years to build shelters, houses, boats and many other structures. It is thought that the first wooden structure was built over 10,000 years ago with Europe's Neolithic longhouse, constructed around 5000 to 6000 BC, as an example of one of the earliest free-standing timber dwellings. In the new stone age, wood became an essential and widely used element in the construction of housing and later in the Iron Age, woodwork advanced and larger structures were designed and built.
With such a history, it is clear that wood is a material that has truly stood the test of time, but where is its place in contemporary architecture? While log cabins and wood forts are concepts of the past, the choice to incorporate wood into today's designs comes in with a plethora of advantages and has proven to be a high-performance modern building material. Wood has the ability to offer more versatility than almost any other comparable material, and there are two key areas in architecture where its performance is completely incomparable- its sustainability and unique aesthetic appeal.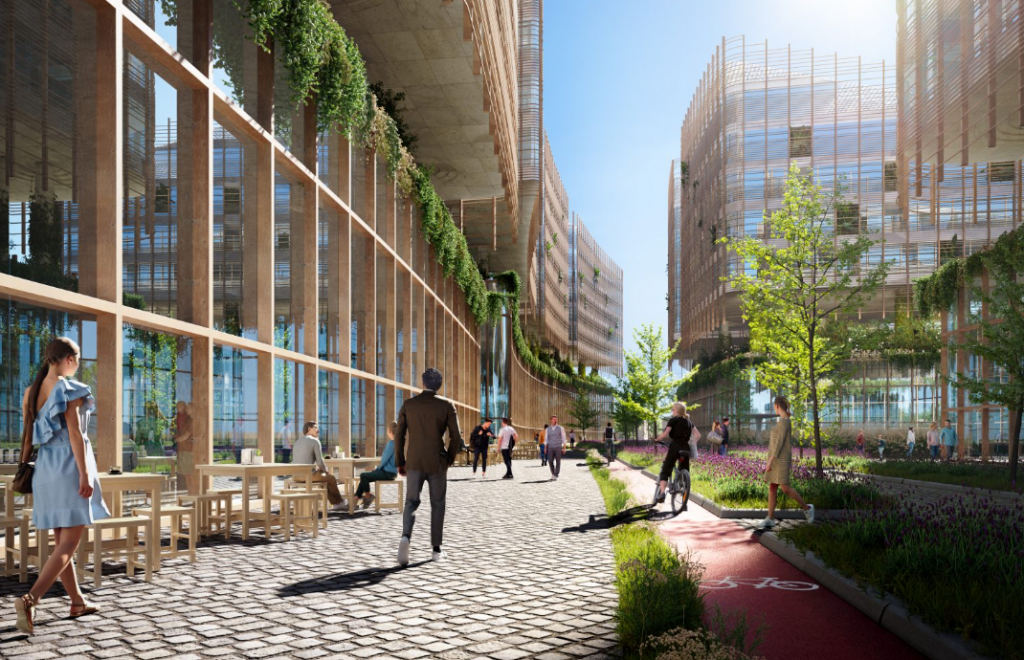 Quay District, Cameron Highlands, Malaysia
Sustainability
Renewable and biodegradable. Traditional materials such as steel or concrete use notably more CO2 in their manufacturing process. Meta-analyses of the average impact of using wood instead of concrete suggest an average reduction of 2.1 tons of carbon dioxide emissions per 1 ton of wood products used compared to concrete (1). Thus the use of wood in construction is a clear, cost-effective solution to carbon capture, thus no need for additional man-made carbon capture technology to 'offset' carbon emissions when using timber.
The architectural and sustainable advantage of wood is being explored in depth by students at ECOSpace- the UK's first centre for sustainable construction (2). The centre's fundamental goal is to lead the way in training for sustainable development in construction by encouraging environmentally sustainable work practices. RMJM is proud to have built its Carnegie College facility, which features a suite of restoration workshops that train future craftspeople to redevelop many traditional construction crafts to ensure a more sustainable future.
It is evident that an increase in the overall use of timber products in architecture can have a positive difference for a more sustainable built environment in a variety of ways while also encouraging a flourishing forestry industry with more trees planted, grown and managed in a sustainable way.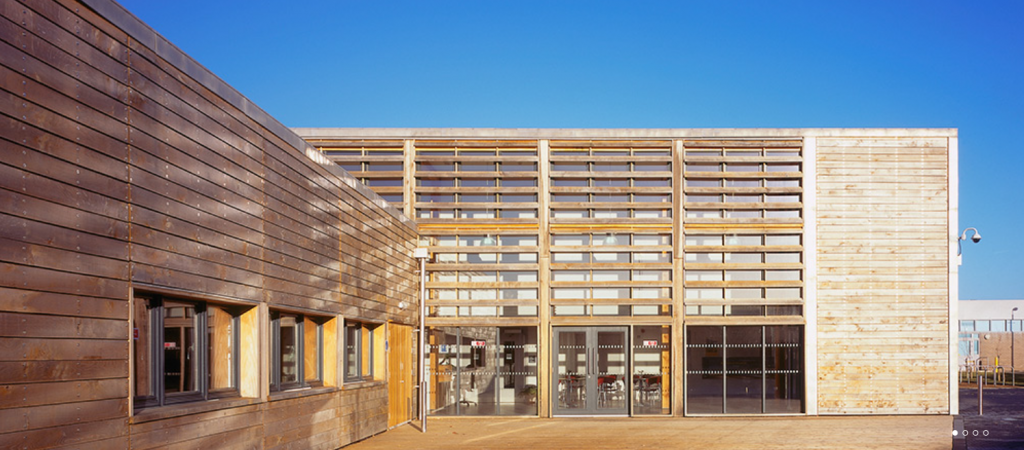 Carnegie College, Ecospace, Dumfermline, United Kingdom
Aesthetic
Alongside this, the incorporation of wood elements can create a variety of aesthetic additions to a building's end design. After a tumultuous few years, today's society has found a desire for a deeper connection with nature, a fact that has intertwined with contemporary designers and architects. We are seeing an increase in the use of a variety of natural elements from wooden panels, feature walls and even larger-scale features such as indoor courtyards and gardens. Wood, in a variety of forms and finishes, has become a key method in harbouring this crucial relationship sought with nature.
RMJM's proposed design for the Quay District, in Malaysia is a recent example of this understanding being applied by architects (3). Influenced by the local and traditional Malay Houses, the plan of the buildings is formed of alternating harmonious proportions with decorative wooden louvre façade elements and tropically-sloped roofs, further enhancing the cohesiveness of the project with the site's natural surroundings. The classic wood stilts of the traditional building style have been incorporated into the massing of the building to divide two different programs- keeping various sustainability strategies in place. Moreover, green roof gardens were incorporated into the design to cool air temperatures and balance overall pollution, while furthering that highly-desirable natural aesthetic appeal.
Another example is RMJM's award-winning design for the Solebury School Abbe Science Centre in Pennsylvania, USA (4). The use of a wood exterior introduces different textures and different cladding types throughout, creating a break in the otherwise large, uniform mass, as well as adding texture, a bit of variation and light and shade. Moreover, the school is graced by century-old oaks and willows. As such the campus has been modelled after a rustic agrarian village- achieved by the architect's choice to use wood for the exterior material for the project. Further, a study conducted in 2010 in an Austrian school compared two 'timber' classrooms versus two 'standard' classrooms. The benefits for children studying in the timber classrooms were significant, their heart rates were lowered by up to 8600 heartbeats (5). It is evident that the use of wood in architecture, whether it is in homes or in schools, serves both an aesthetic and practical role.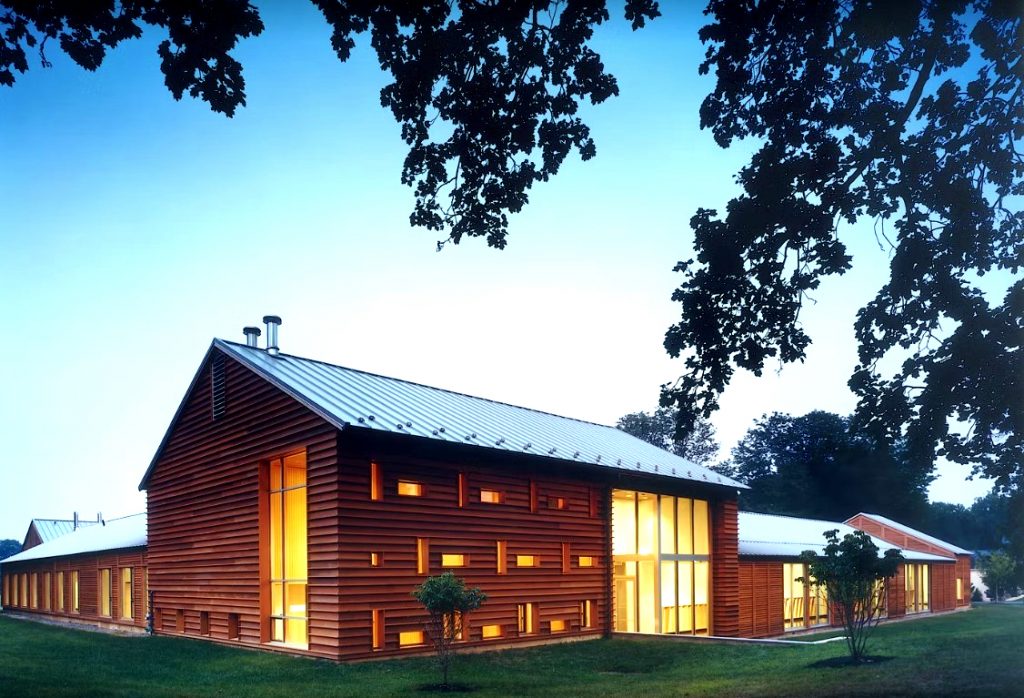 Solebury School Abbe Science Centre,Pennsylvania, USA