Estimated reading time: 4 min
Below is just one example of the fleeting life some purpose-built structures have; The Rio Olympic Aquatics Stadium began construction in the second half of 2014 and opened in April 2016 (in time for the 2016 Olympics). Just seven months after Rio hosted the first Olympic Games in South America, on March 18, 2017, we see brown water fill the once practice pool, and weeds grow in front of an abandoned and already decomposing Olympic Aquatics stadium located at what was once the official Olympic Park, which has also faced the same desolate fate.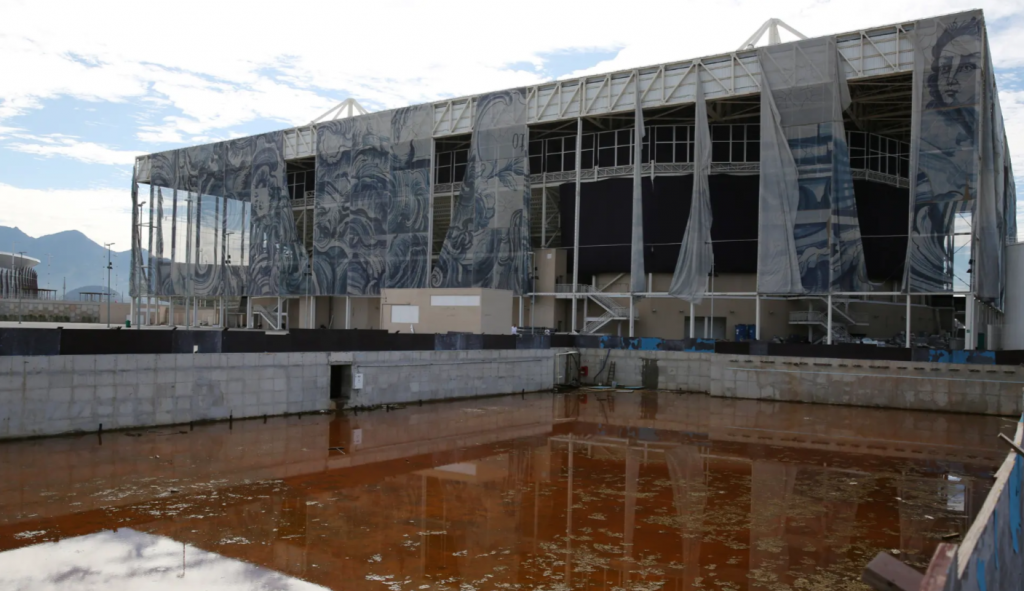 Olympic Aquatics Stadium, Rio de Janeiro, Brazil.
Purpose-built structures are constructed with specific events and purposes in mind, and as these buildings are often designed to cater to the unique needs of an event and as such their longevity isn't typically a primary design consideration. This, in turn, means that after the event is over, the building's fate is often uncertain. As shown above, it is not uncommon for purpose-built structures such as Olympic stadiums or EXPO buildings to be left unused, abandoned or even demolished, which is a significant waste of resources. In recent years a plethora of articles have been published, investigating the unsustainable nature of purpose built architecture. This is for a variety of reasons including the aforementioned waste of resources, but also now more than ever, designing for longevity is one of the biggest steps in sustainable design we can take. 
Designers and architects today are working as part of a society that is aware of the long-term repercussions of short-term decisions and at RMJM we are taking steps to strategically extend the life cycle of our projects – whether it is a purpose built olympic stadium or a mixed-use skyscraper. Repurposing purpose-built sites is an excellent way of extending the building's life cycle while maximising the use of the resources that have gone into building them. And as such, it is good news that research conducted by the IOC, following the 2018 Winter Olympics in PyeongChang, South Korea, found that 85% of all permanent venues used at the Olympic Games (from Athens in 1896 to PyeongChang in 2018) – as well as 92% of permanent venues used in the 21st century, including EXPOs and other similar sites– remain in use, long after the various Games editions finished, bringing social and economic benefits to local communities (1).
Repurposing as a method of implementing environmentally sustainable practices is one of the primary benefits of the practice. Constructing new buildings from scratch requires an enormous amount of resources, including energy, materials, and manpower. Repurposing an existing building significantly reduces the amount of waste and environmental impact that would be generated during the construction of a new site. Rather, the costs saved can be channelled into green features to further the sustainability of the site, such as solar panels, green roofs, and rainwater harvesting systems.
Furthermore, if in fact the site is unable to be fully repurposed, then the materials used in constructing the original building can also be recycled or repurposed if necessary. This would further reduce the carbon footprint of the project by lowering the need to produce fresh steel and other high CO2 construction materials. Alongside this, the environmental impact of transporting building materials to the site is minimised when using this alternative version of 'locally sourced materials'.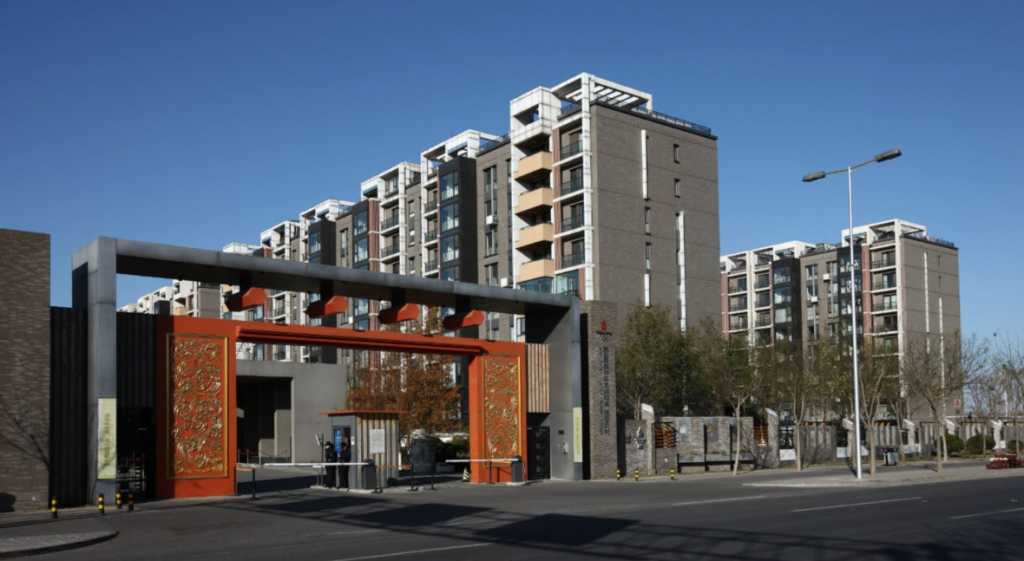 Beijing Olympic Village, Beijing, China
In a wider perspective, there is also an abundance of local and global socio-economic benefits when choosing to repurpose and extend the life cycle of purpose-built architecture. Firstly, structures such as Olympic stadiums are often located in areas that are in need of development and investment. Repurposing purpose-built buildings can revitalise the surrounding areas and provide economic opportunities for the local community. The repurposed building can attract new businesses, generate employment opportunities, and contribute to the local economy- turning these sites into valuable community assets that continue to benefit society for years to come. Olympic infrastructure has been transformed into public parks, museums, and convention centres, providing the community with valuable resources and attractions that bring people together and encourage community engagement while also creating opportunities for investment and development. A key example of this is the 2008 Beijing Olympic Village, first designed to comfortably accommodate over 16,000 athletes, which has since been redesigned as an expansive residential area (2). 
Another prime example would be the UAE Pavilion which was project managed  by RMJM Dubai for the Dubai Expo 2020, located close to the Al Wasl Plaza in central Dubai, UAE (3). A true amalgamation of tradition and innovation, the pavilion is inspired by the falcon- the country's national bird. This energy efficient building has 28 movable wings in the roof, which can spread to harvest energy through integrated photovoltaic panels (which convert solar radiation into electricity). The intricately designed site consists of 8,000 square metres of exhibition space and continues to host a variety of large events since it was first constructed.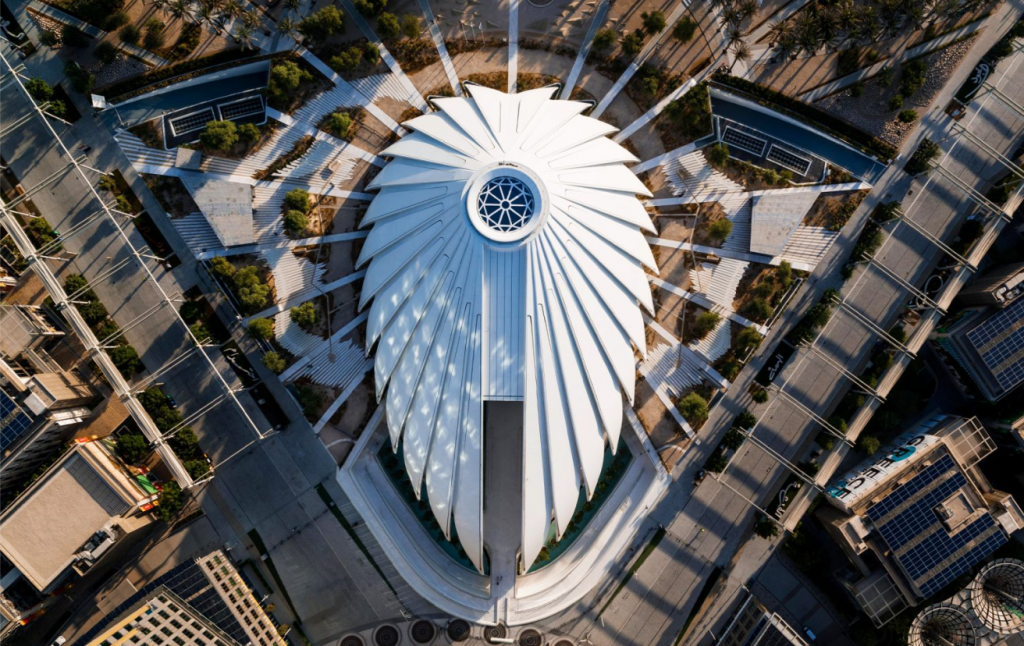 UAE Pavilion, Dubai Expo 2020, UAE
Re-purposing purpose-built sites such as Olympic stadiums and EXPOs is a cost-effective, environmentally friendly, and socially responsible way to extend a building's life cycle. By transforming these facilities into valuable community assets, we can create new opportunities for economic growth, community engagement, and environmental sustainability, while also extending the legacy of the sites and what they represent. Ultimately, re-purposing these purpose-built buildings is a win-win situation for everyone involved, providing tangible benefits for the community and the environment while preserving valuable resources and assets for future generations.