Estimated reading time: 2 min
RMJM attended the 27th edition of MIPIM – Le Marché International des Professionnels de l'Immobilier – the world's leading property market event, in Cannes, France last week.
International investors, developers, end-users, architects, hotel groups, public authorities and other CRE players from 90 nations gathered for four days in the fantastic Palais de Festival et des Congrès to discuss the future of real estate.
The central theme of MIPIM 2016 was "Housing the World", a topic also high on the agenda for the United Nations, who estimate around 50% of world's population now lives in cities. As urbanisation occurs across the world at different rates, each year requires a greater coordination of logistics, services and infrastructure investments in our cities. Urbanists and architects, along with real estate developers, have been called upon to design more affordable, safe and socially sustainable cities, adapted to house both the growing generations and the Millennials. On top of that, our contemporary ways of living require intelligent buildings, multifunctional spaces, well-connected transport systems and mixed-use spaces for leisure, work and socialising. According to industry experts, many of whom were in attendance at the numerous panels organized at MIPIM, the residential sector is fast becoming a major asset in Europe and North America. Significant infrastructure investments are already taking place in undeveloped areas around several cities. These challenges come in addition to the digital revolution, which is continuing to impact the real estate industry whilst creating huge opportunities for designers.
Although there is still a long way to go to create a future city, the opportunities out there for all the parties involved in the market, from designers to developers, are huge. The London and Turkish pavilions were a testament to the compromise and change we must make for future generations. RMJM is proud to be a part of the change.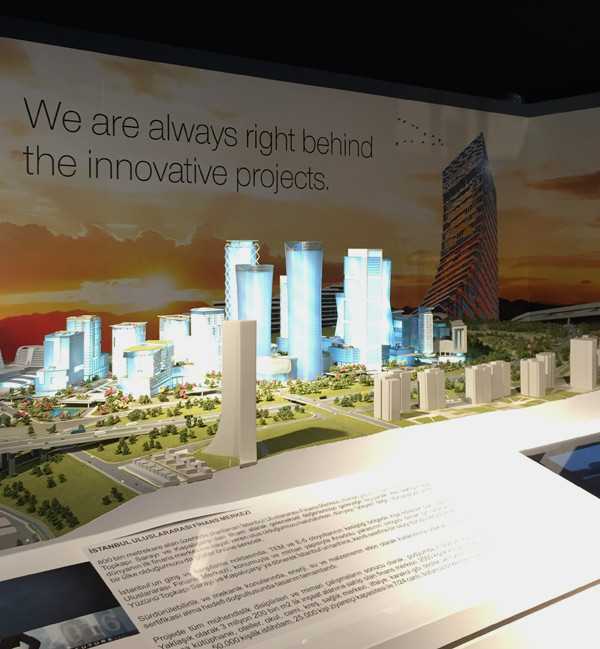 The Varyap Meridien turning heads at MIPIM rising from an incredible scale model of Istanbul.